The date today is Saturday, January 1st, 2011.
For many reasons, today is very special. Here are a few reasons:
Today is the first day of this year.
Today is the first day of this decade.
Today, we are writing this first blog post of the TodayFactor.com website.
Today is also special because it is, well, today!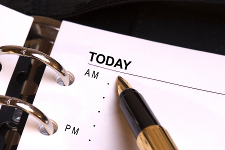 Today is important because it holds the key to success. What we do today will determine what we accomplish (or do not accomplish) tomorrow.
This is the whole premise of this website, and what better time to start this blog than January 1st, 2011.
However, whether today is January 1st or you're reading this at a later date, today holds the potential to a new plan, a fresh start, an exciting path.
Will you take advantage of today? Yesterday is gone. Focus on what you can accomplish today, because success starts today!